The tenth DCBX festival is coming to Washington DC between August 23rd and 27th.  With a city so divided DCBX brings people together!   We are proud to have been voted the 3x Latin Dance and Diversity Event of the Yea, and want you to join in the fun. Although we're hosting a great variety of acts, we're most excited to bring you Eddie "The Mambo King" Torres and the Mambo King's Orchestra! Don't miss out on this amazing opportunity to see one of salsa's greatest and most successful performers. If you're looking for things to do in Washington DC this August, make sure you head on down to the DCBX festival.
DCBX is proud to host over 300 cultural performances from across the world; including 15 internationally acclaimed Latin musical acts. We have some of the best salsa and bachata dancers in the world, along with renowned singers and musicians. We are proud to announce that Eddie Torres and his Mambo King's Orchestra will be playing live Friday, August 24, 2018.
Who is Eddie "The Mambo King" Torres?
Eddie Torres has been Latin dancing since the age of 12, and made a name for himself by combining elements of various dance sources, including mambo, North American jazz, and Afro-Cuban. He is best known for his unique style of dancing, which starts with the female moving forward. He's a massive name in the salsa dancing world, and has had a huge impact on the scene for nearly 50 years.
Torres learned all he could from the clubs of New York, because at the time there were no dance schools that could teach him what he wanted to know. This contributed to Torres' eclectic dance style – he combined all his favorite elements from his favorite dancers. This is what led the Mambo King to become such a successful teacher of Latin dance, he saw a gap and wanted to share his knowledge with everyone possible.
The Mambo King has been a dance instructor for over 40 years, and in his time has taught thousands of people the joys of salsa. Some of his most famous students include Delille Thomas, Wilton Beltre, and Franklin Diaz. He has also started a children's dance program that proudly teaches around 300 students a year. Seeing Eddie Torres dance is an amazing experience, so don't miss out on your chance to see one of the masters of salsa at work!
DCBX is also proud to host the Mambo King's Orchestra, directed by Mitch Frohman. The Mambo King's Orchestra will perform alongside Eddie Torres' dance show, and are known as some of the best musical performers in the Latin music scene. They embrace the true spirit of salsa, and you haven't lived until you've seen them perform!
Mitch Frohman has been in the industry for over 4 decades, including a 25-year run as saxophone and flute player for the Tito Puente Orchestra. Frohman currently performs with both the Mambo King's Orchestra and The Bronx Horns, while also touring the world with the Spanish Harlem Orchestra. In between all this, he still finds time to teach students the joys of music!
DCBachata is proud to host some of the leading figures of the Latin music scene at DCBX, and this is an opportunity you'd be foolish to miss. The Mambo King is one of the greatest dancers of our age, and his ability to combine elements from different cultures ties in perfectly with the message of DCBX festival. Both Eddie Torres and Mitch Frohman will also be on hand to deliver workshops across the weekend, so don't miss out on this exciting chance to learn from the masters!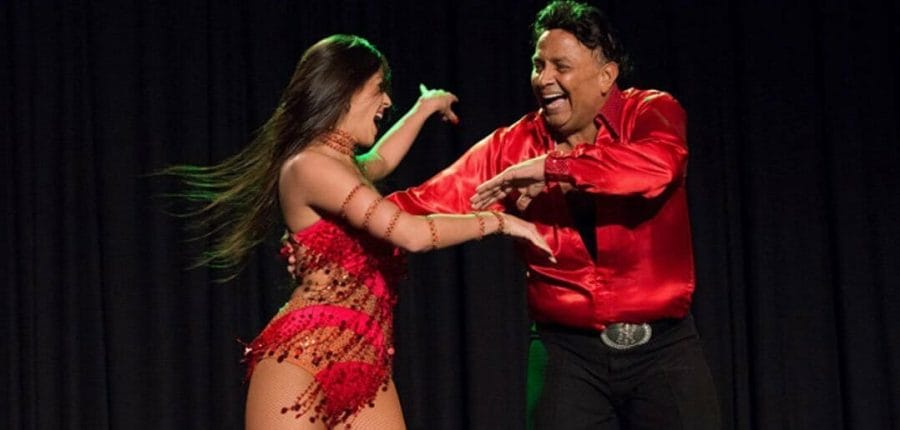 The Best Salsa Festival
Eddie Torres and The Mambo King's Orchestra are just one of many great acts performing at DCBX. We've worked incredibly hard to bring together industry leaders, not only from the world of dance, but also food, fashion, and business. With over 300 performers and 125 workshops to choose from, you won't have any problem keeping busy over the weekend!
You won't find another opportunity to witness the great Eddie Torres and his Mambo King's Orchestra in action in such a rich and diverse atmosphere. DCBachata is incredibly proud to host such a well-known figure, along with renowned musician Mitch Frohman. So if you're looking for things to do in Washington DC this August, make sure you come to DCBX, the best music and dance festival in the world! You'd be crazy to miss such a great range of live music, performances, and activities.
RSVP for the Event
https://www.facebook.com/events/188689261834586/
Get your tickets for Eddie Torre's Mambo King's Orchestra
https://mambokingsdcbx10.eventbrite.com
Follow us on Facebook @DCBXLive and @DCBachata!